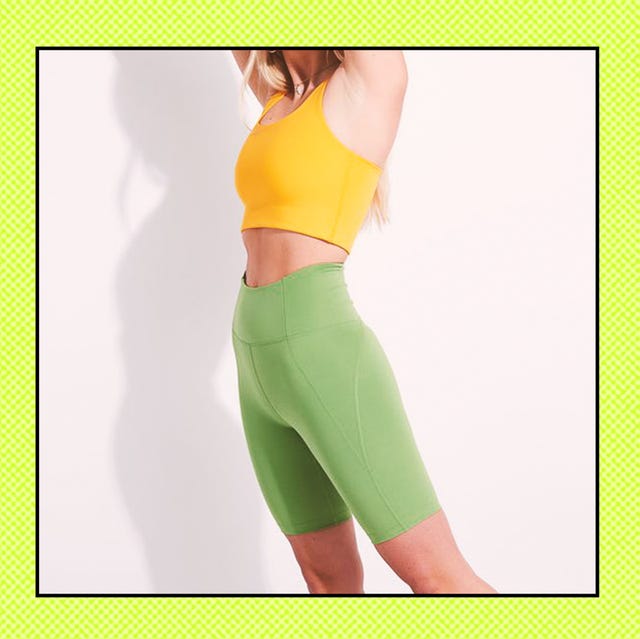 Boody/Girlfriend Collective/Jennifer Savin/Jaime Lee
We all want to do our bit to keep the planet happy – whether it's switching from bottled shampoo to a bar (cutting back on plastic in the process) or experimenting with eating less meat, there's lots you can try… and taking a peek inside your gym kit is another excellent place to start. Yep, we're talking about investing in some sustainable, ethical activewear.
Even if you've already curbed (or at least semi-curbed) your monthly fast fashion haul in favour of a spot of thrifting, often it's tougher to go secondhand shopping for gym clothes. The size range may not be there, for instance, or you might struggle with the idea of wearing a pair of leggings that a stranger has already sweated in – which, in all honesty, is fair (sometimes it feel like there's a lot of pressure to be perfect with regards to watching your eco-footprint, when it's just not possible to do it all).
But fear not! We know how important it is to find wholesome, lovely brands you can trust to make the process of buying ethical activewear whole lot easier, so we've done the (literal) leg work and put a tonne of them on trial (scroll down to see our top sustainable activewear picks).
We've also asked two sustainability experts for their top ethical shopping tips, if you're keen for a deeper dive:
How to shop for sustainable activewear
Unfortunately, opting for activewear made via materials that benefit the planet (and people eg. from brands who've committed to paying workers fairly) can sometimes come at a higher financial cost, which is why it's always good to deploy the '30 times test', says slow fashion expert Abbie Morris, CEO of Compare Ethics: "If you're looking to reduce the environmental impact of your wardrobe, switch your mindset to consider whether you'll wear something more than 30 times. If the answer is yes, then buy it. You'll start to notice how many items you say 'no' to and what's actually a solid, long-term investment piece."
Basically, it's all about quality over quantity – something you also need to consider when taking into account how an item washes (eg. will it fall apart after one speedy 30º cycle? Will it likely require washing after every wear?). "Focus on neutral colours and classic shapes, as this will ensure the items don't go out of fashion," Morris adds.
Many brands are now aware of how important it is to show off their green 'credentials', but sadly far too many still keep things vague, simply throwing in the right buzzwords as part of their latest advertising campaigns, something known as 'greenwashing'. Morris' advice on that front is simple, "If it's hard to find credible environmental data from a brand, then it's likely they are not actually reducing their environmental impact." Transparency is key.
You can also check a brand's rating on sustainability directories such as Good On You or if it's a member of the Fair Wear Foundation as a starting point – or shop on a trusted marketplace like Wolf & Badger, which stocks independent brands and even has an 'ethical filter' option (allowing you to filter products by whether or not they're vegan, or were produced by creators who were paid a fair wage etc).
What materials should you look for when buying sustainable activewear?
One easy way of buying ethical activewear is to shop pieces that are made from materials that have a positive impact on the environment, such as:
Recycled polyester
Bamboo
Organic cotton
Non-toxic dyes
Merryn Chilcott, Sustainability Manager at BAM Bamboo Clothing, says, "It's also important to consider how a brand is actively reducing their impact on the climate and nature – for example are they lowering and offsetting CO2 emissions, and conserving natural resources? – and the garments 'end of life' outlook." By that, Chilcott recommends looking at whether the brand has any take back or re-sale schemes, or if the item is biodegradable.
1
Best sustainable activewear brands to shop in the UK
Boody: Women's Weekend Sweat Shorts
When it comes to being upfront about their do-gooding, Boody make every effort to be transparent (saying on their site that these Weekend Sweat Shorts in particular saved 208 litres of drinking water and 2.2km of driving emissions by being produced sustainably).
Our Features Editor, Jenni, owns them in grey and says the quality is "superb and the fit is ultra flattering" (in fact, she's barely taken them off since they arrived in their biodegradable packaging).
2
Best sustainable activewear brands to shop in the UK
High Waisted Bike Short
Girlfriend Collective
thesportsedit.com
US$51.00
Girlfriend Collective had been on Sophie's, our Bookings Editor, radar for a while now, who tested their High Waisted Bike Shorts and Paloma Bra. Each piece is made using 25 recycled water bottles and produced in their ethical factory, which guarantees fair wages, safe workspaces and free catered meals.
"I've loved the look of GC's gym wear for its chic simplicity and gorgeous colour palette and was so happy to discover that it's also a) incredibly comfortable and b) a genuinely committed sustainable activewear brand," Sophie explains. "I paired the mantis green shorts with their bright yellow sports bra for a three hour cycle around Italy, with absolutely no chafing thanks to its buttery soft materials – all recycled. The bra is so pretty I've even worn it as a normal top since and discovering those cute colours are achieved by using eco-friendly dyes makes me love them even more."
The brand also cleans and cools any waste-water leftover from the dye before it's released back and recycles leftover dye mud into roads and sidewalks. Pretty cool stuff.
3
Best sustainable activewear brands to shop in the UK
Poise Bamboo Yoga Pants
Poise
bambooclothing.co.uk
US$55.00
If there's one thing you want in a pair of yoga pants, it's comfortability – something which BAM's Poise Yoga Pants more than delivers on.
Features Writer, Jade, reviewed them and said, "Trust me when I say, these pants – which I teamed with BAM's super soft and supportive Balance Crop Top – are the most comfortable piece of clothing I've ever put on my body. Not only are they now my go-to yoga pants, but also my go-to work from home pants, my go-to popping to the shop pants, and my go-to binge-watching Vampire Diaries on the sofa pants."
As well as being comfy af, the pants are made from bamboo which means they're sustainable too – in fact, purchasing a pair of BAM's yoga pants saves 683.8 litres of water and avoids 2.1 kg of carbon emissions. An all round win!
4
Best sustainable activewear brands to shop in the UK
Balance Bamboo Crop Top
bambooclothing.co.uk
US$48.00
Buttery soft and oh-so sustainable, Bamboo Clothing is the real ethical deal. This crop is perfect paired with the above yoga pants.
5
Best sustainable activewear brands to shop in the UK
TALA Zahara Zip Up Sports bra in Khaki
Made with recycled polyester, plastic bottles and textile waste are processed into plastic chips and melted into new fibres – saving water and energy, while reducing greenhouse-gas emissions – to create this super cute TALA sports bra. And to be honest, we'd wear ours with jeans and heels to a bar too. Double-win!
6
Best sustainable activewear brands to shop in the UK
See Ya Laser Legging – Black
Nimble Activewear
thesportsedit.com
US$81.00
Nimble proudly share that they have an especially short supply chain (everything from sourcing the raw material to actually creating the garments happens within an 80km radius in Taiwan) – this reduces waste and cuts back on the brand's carbon footprint.
Pangaia
pangaia.com
US$175.00
Our Booking's Editor, Sophie, tested Pangaia, the innovative brand whose sustainable practices are even printed on the clothes. Their planet-friendly clothing is made using science-led methods that create garments using recycled natural and materials and recycled dyes.
"Hands down the softest hoodie (or any clothing, really) I've ever tried. Wearing the stylish bright green hoodie felt like being wrapped in both a blanket and a hug, made from premium recycled organic cotton, which is brushed on the inside for extra cosiness," Sophie confirms. "It's a popular piece, which you can see from all the 'gram pics on Pangaia's site, where you'll also spot the climate positive stats that come with choosing your new buy – including how many days of drinking water have been saved and how many t-shirts diverted from landfill."
8
Women's Activewear Bike Shorts 2.0
Pangaia
pangaia.com
US$65.00
If you weren't already totally convinced, check out Pangaia's bold and bright activewear. The sweat-wicking treatment on these hot pink bike shorts is 100% biobased, made from algae, which is the first of it's kind. Meaning: you can let the power of nature keep you cool and dry during those sweaty summer workouts.
9
Best sustainable activewear brands to shop in the UK
73 Zero Half Zip Running Jacket
BAM
bambooclothing.co.uk
US$95.00
Available in three different colour options, this lightweight running jacket from BAM is the perfect choice for those wanting to a) be speedy and b) good to Mother Earth. It's also 100% recyclable.
10
Best sustainable activewear brands to shop in the UK
Dayflex High Waisted Leggings (Army Green)
dayflex
wearetala.com
£59.00
Our Head of Social Media, Sophie, tested TALA high waisted leggings from the Dayflex collection, which is sustainably made from 25% LYCRA® SPORT and 75% recycled nylon – making use of material that 'would have been sent to landfill or down-cycled if we didn't use it', their website says.
She said, "The leggings felt supportive without being restrictive, were squat proof (I tested them in shadow black), silky soft and come with a handy inner pocket. The Dayflex set was perfect for a yoga class and I could have easily chucked on a blazer for an effortlessly cool athleisure look afterwards."
11
Best sustainable activewear brands to shop in the UK
Racerback Sports Bra
Boody
boody.co.uk
US$29.95
Providing a medium level of support, this sweat-wicking bamboo-based sports bra is a gym wardrobe staple of Features Editor, Jenni. An added nice bonus: 1% of all sales of the Boody Racerback Sports Bra are donated to Breast Cancer UK (so you can feel doubly good about your purchase). It also comes with removable pads.
12
Best sustainable activewear brands to shop in the UK
Radley x EYO Lucie Leggings
While Radley aren't exactly the first brand that comes to mind when you think of cool gym clothes, their collaboration with sustainable active legends EYO passed the test with Cosmopolitan's Editorial Assistant and Junior Writer, Emily.
"These leggings were so stretchy and smooth, they made all of my movements feel really easy, while still feeling nice and tight," she said after trialling them. "There's a pocket on each leg which blends in seamlessly with the rest of the fabric, ideal for your phone or credit card."
These leggings are especially great for outdoor workouts as the fabric even offers UV protection (UPF 50+).
13
Best sustainable activewear brands to shop in the UK
Radley x EYO Kara Sports Bra
Like other items in the Radley x EYO collection, this 90s-inspired sports bra is made of a fabric offering UV protection (UPF 50+) and containing ECONYL®, a 100% regenerated nylon fibre made from discarded fishing nets and other nylon waste. Our tester, Emily, said she loved the design and colour of this sports bra and could tell it was well made, but flagged that it's best suited for those with a smaller bust.
14
Best sustainable activewear brands to shop in the UK
Women's Activewear Unitard 2.0
activewear
pangaia.com
US$130.00
Channel your inner 'Princess Diana does fitness' with Pangaia's slick and efficient unitard, made with planet-friendly materials treated by plant-based methods. You can even scan a QR when the item arrives to get more info on the circularity of it.
15
Best sustainable activewear brands to shop in the UK
Vuori Womens Lux Performance Tank Top
Vuori
cotswoldoutdoor.com
£50.00
Vuori offset 100% of their carbon emissions and have pledged to eliminate 80% of plastic from its supply chain by the end of this year (along with using 80% sustainable materials). On a design and performance level, it ticks all the boxes too.
16
Best sustainable activewear brands to shop in the UK
Vuori Womens Yosemite Bra
Vuori
cotswoldoutdoor.com
£60.00
We're in love with this sky blue sports bra from Vuori – it's ideal for hiking, training and teaming with high waisted jeans for an off-duty summer look too. It also comes complete with an anti-odour treatment, moisture-wicking technology and quick-drying finish.
17
Best sustainable activewear brands to shop in the UK
Amy Ankle Biter Leggings (With Phone Pocket)
Australian brand Lorna Jane is on a mission to improve their sustainability by transitioning out single use plastics, developing recycled fabrics, scouring reusable and sustainable materials and using soy-based inks – and we're here for it.
Digital Editor, Zoe, tested out a pair of their hero leggings from the active essentials range. "If you're after super soft leggings that offer maximum coverage, these are them," she said. "The flattering high rise design and stretch fabric means you'll feel fully held in and supported, while the moisture wicking fabric means no embarrassing sweat patches.
"I've been religiously wearing them to work out in, but they've also become a trusty pair of pants to wear when WFH and popping to the shops. In fact, I probably definitely need two pairs…"
18
Best sustainable activewear brands to shop in the UK
Pacific Leggings
wearesamudra.com
US$93.00
With a passion for protecting the ocean, Samudra creates activewear using waste plastic found in our waters – and all products are made to such a high performance standard that they can double up as swimwear too. Genius! The brand also takes great care with all aspects of its supply chain, from design to labour to packaging, and donates 5% of its profits to female-focused conservation projects.
Concerned about microplastics being released when washing a Samudra product? They recommend popping your item into a Guppyfriend washbag, designed to stop any from entering the ecosystem, and only washing when really needed.
This content is created and maintained by a third party, and imported onto this page to help users provide their email addresses. You may be able to find more information about this and similar content at piano.io
Topics
#Best brand
#Brand competition
#outside brand
#Pro branding
#Quality branding